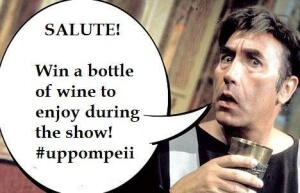 There's just one week to the opening night of Up Pompeii.
The first week is nearly sold out, so don't miss the fun. Grab your tickets now!
Get tickets here, call 081 741 0703, or email tickets@bangkokcommunitytheatre.com
Up Pompeii Competition 
To help you celebrate the show in true bacchanalian fashion, we're giving you the chance to win a bottle of wine for your table at one of the shows. With April Fools just around the corner, it's time to dust off the comedy cobwebs and share your most hilarious history-themed jokes with us for a chance to WIN! We'll repost some of the best, and the person who submits our favourite will win a bottle of wine to enjoy with their guests during the show.
To Enter
1. Go to www.facebook.com/uppompeii and share our Event
2. Send your history-themed joke(s) to us by Private Message on Facebook, including your full name and the date of the show you will be attending.
Terms & Conditions
The closing date is Thursday 31st March
You must be in possession of a ticket to be eligible to win the prize
One winning joke will be chosen from the eligible entries
The winner will be announced on Friday 1st April
Offensive jokes will not be considered
The judges decision is final
Good luck, and see you at Up Pompeii!