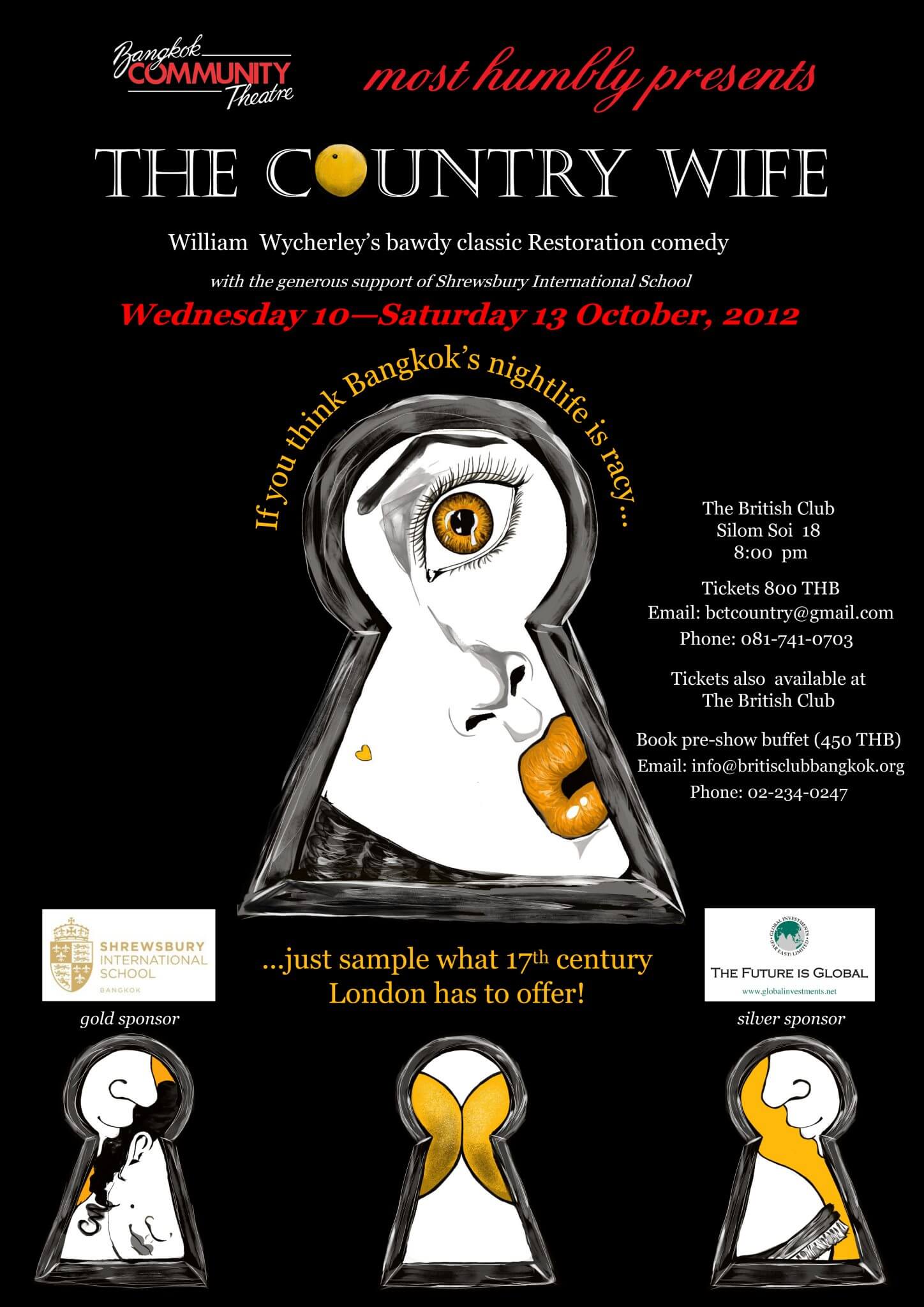 The Country Wife
by William Wycherley
10th – 13th October 2012
at The British Club
Directed by Severin Herbert
Produced by John Wright
Cast
Mister Horner – James Laver
Mister Harcourt – Nimit Narula
Mister Dorilant – James Dyke
Mister Pinchwife – Jonathan Truslow
Mister Sparkish – Raymond Possick
Sir Jasper Fidget – Michael Allman
A Boy – Severin Herbert
A Quack – Nico Torio
Mrs Margery Pinchwife – Nic Frances
Alithea Pinchwife – Elise Meleisea
Lady Fidget – Stephanie Wallis
Mrs Dainty Fidget – Poppy Golding
Mrs Squeamish – Anna Thurkal
Old Lady Squeamish – Vanessa Armstrong
Lucy, Alithea's Maid – Jenny Flounders
About the Show
The Country Wife caused a sensation when it first opened at the Theatre Royal, Drury Lane in 1675. It was the wittiest and bawdiest play that London theatre-goers had ever seen. The plot was based on a few plays of Moliere which perhaps Wycherley had seen when he had been living in France. For the first time, women were allowed to be on stage and Wycherley took advantage of this by reversing the cross-dressing mistaken identities that had been popular in the time of Shakespeare when boy actors took the female roles.
The play was performed regularly until the mid 1750s when tastes changed and it was not seen again until 1924.
The characters of The Country Wife inhabit a world created three and a half centuries ago but are still recognisable, perhaps even familiar. The themes of sex and social hypocrisy are perennial; the world of artifice and gossip, captured in the mannered style of Restoration theatre, is seen in society's obsession with celebrities. Best of all, it's still funny.
Destination Thailand did a 4-minute segment about BCT's production of  The Country Wife.
Click here to open the video in a new tab.