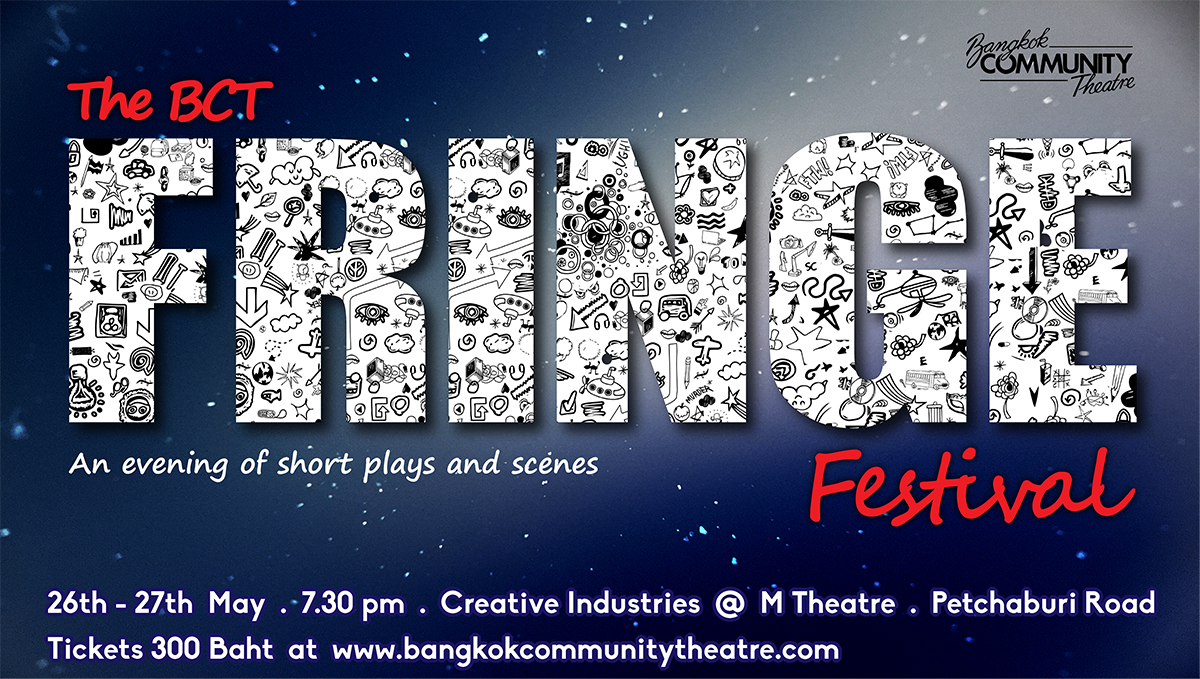 Fringe 2017: A Festival of One Act Plays
It's a wrap! After two sold-out performances, we'd like to thank everyone for the hard work given for this wonderful experience and great fun for all involved. See below for the original Fringe 2017 posting.
BCT's Fringe Festival 2017 is an informal, fun night of theatre which is comprised of 8 separate short productions featuring first-time performers and old hands alike. Some of the presentations are finished productions and others are still a work in progress. All are simply staged and good fun; we hope you will support BCT and Bangkok theatre in general by attending!
This year's Fringe festival will be held at Creative Industries (M Theatre) from May 26-27, 2017, it is sure to be a blast! See below for more details about what's on tap this year.
Tickets are available for 300 THB via the button below. Check out our Facebook page for the awesome show posters, and we look forward to seeing you there!
Please note: there are no door sales, so make sure you get your tickets in advance!
Please see the venue below.
HUMID
by Anthony Cozens
Directed by James Laver 
It's the end of a hot afternoon. Issy and Miles are on their way home from the funfair.
They need to talk, but is Hannah really the best person to dispense relationship advice?
WITH ONE LOOK
Book and lyrics by 

 

Don Black,
Christopher Hampton
Music by Andrew Lloyd Webber
Directed by Nico Torio
A faded star of the silent screen encounters for the first time a screenwriter for sound
movies. One wields images and the other bids words. This scene from the acclaimed
musical "Sunset Boulevard", singularly captures the plight and power of Norma Desmond, the show's tragic heroine. Is a picture really worth a thousand words? Let her song be the judge!
BABELS IN ARMS
by David Ives
Directed by Ethan Oulton
Two blue-collar Mesopotamian construction workers are handed a provocative task: Build the Tower of Babel—or else. How many stones does it take to get to heaven, anyway?
OPENING NUMBERS
By Preeyakit 'Fox' Buranasin
Directed by Preeyakit 'Fox' Buranasin
Choreography by Tanyathorn Thaicharoen
Opening Numbers is a performance of the opening sequences of two musicals that are currently being written by Preeyakit 'Fox' Buranasin. The first sequence, 'Have You Some Change Stranger,' is the opening song for Satang and Penny. The second sequence – which includes two songs, 'Just Next Door' and 'The Debate' – starts Professor Atheist.
MEDIOCRITY
By Anton Robert Krueger
Directed by Cian Green
Do we really say what we mean when the big bad world starts to get too big for us? What would you do if you had the chance to say what you really think without any repercussions? Well this is the question facing Kenaf, our down and out everyman, a man whose life is not his own but yet a man whose life is about to drastically change. Watch as our Kenaf navigates and hopefully triumphs over the tricky waters of a difficult life and the crazy characters that surround him. Mediocrity is an absurd and grotesque comedy that borrows elements from both the Commedia Del'Arte and Burlesque traditions to send up doctors, wives, brutality and death.
SURE THING
By David Ives
Directed by Elise Meleisea
Sure Thing is a short comic play by David Ives featuring a chance meeting of two characters, Betty and Bill, whose conversation is continually reset by the use of a ringing bell, starting over when one of them responds negatively to the other. Think of it as the romantic equivalent of Groundhog Day.
A GAY THING
By Joshua James
Directed by Suman Tharan
A Gay Thing by Joshua James in a short comedic play that explores the sexuality of a straight guy, Ryan, as he shares a drink and some intimate details with his gay buddy Carl. All gay guys at one point or other have had to endure this same awkward conversation with their straight pals, and the show is guaranteed to make you laugh your ass off!