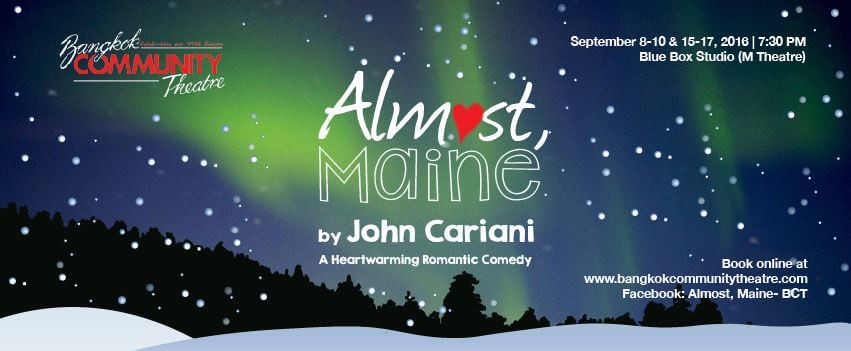 Almost, Maine
by John Cariani
8th-10th and 15th-17th September, 2016
7:30pm at Blue Box Studio, M Theatre
Directed by Peevara (PV) Kitchumnongpan
Produced by Thanyathorn (Sea) Thaicharoen
and Don Harrelson
About the Show
Almost, Maine is a play by John Cariani comprising nine short plays that explore love and loss in a remote, mythical almost-town called Almost, Maine.
On a cold moonless winter night as the Northern lights magically hover across the star-filled sky, the ordinary people of a remote, mythical town called Almost, Maine find themselves falling in and out of love under extraordinary circumstances. Love sparkles and hearts are broken as we explore the romantic relationships of nine ordinary couples, told in short vignettes, in this delightful play full of sweet surprises so human that it will surely touch your heart.
Bangkok Community Theatre is proud to present Thailand's premiere of ALMOST, MAINE.
The show is directed by Peevara Kitchumnongpan and produced by Thanyathorn Thaicharoen and Don Harrelson.
Runtime
The show is approximately 2 hours and 15 minutes, including one 15-minute intermission.
Audience
Recommended for ages 13+.
Venue Map