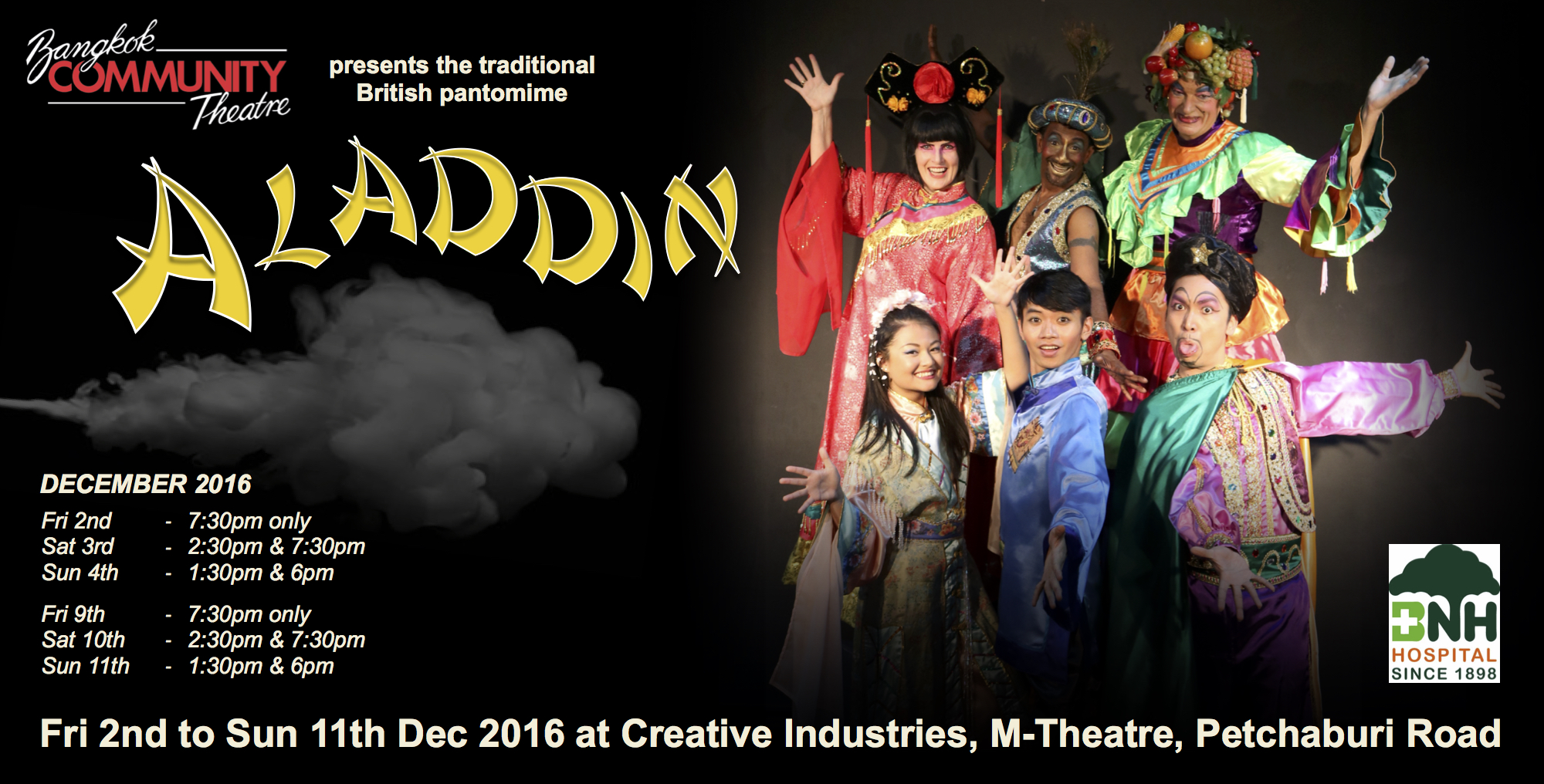 Aladdin
A British Pantomime
at Creative Industries
Directed by Ian Robinson
Produced by Suman Tharan
and John Wright
About the Show
Yes folks, it's Panto time again.
Oh no it isn't!
Oh yes it is!
After the rip-roaring success of Cinderella in 2014, this year we will be performing the traditional British pantomime Aladdin over the first 2 weekends of December 2016 at Creative Industries @ M Theatre on Petchaburi Rd.
For those of you who don't know this ever popular form of entertainment, British pantomime is nothing to do with "mime". It is a non-stop, fun packed show with lots of over the top acting (if you can call it that), singing, dancing and comedy. It's a crazy, chaotic, fun-packed couple of hours of entertainment beloved by the young and young at heart.
Most people know the story of Aladdin as popularized by Disney, and while the heart of the story is the same, the panto version varies in a lot of other ways including its setting in China: Aladdin, a poor, village boy dreams of marrying the beautiful princess. Our show tells the same story but adds in traditional Pantomime elements such as audience participation and the Dame, Aladdin's mother Widow Twankey, who is played by a man. Another tradition is to make the Pantomime relevant to the time and place of performance, so expect Bangkok references and modern remarks weaved into the story!
Aladdin will be performed at Creative Industries at M-Theatre in Petchburi Road. There are 10 public performances including weekend matinees as follows:
Friday 2nd December at 7:30pm
Saturday 3rd December at 2:30pm & 7:30pm
Sunday 4th December at 1:30pm & 6pm

Friday 9nd December at 7:30pm
Saturday 10th December at 2:30pm & 7:30pm
Sunday 11th December at 1:30pm & 6pm
Tickets cost 950 baht including a drink and a mince pie, with a reduced rate of 700 baht for children under 13 at matinees (which includes the 6pm Sunday shows).
If you want a lot of fun and laughter, gather up your family or a group of friends and make a date in your diary.