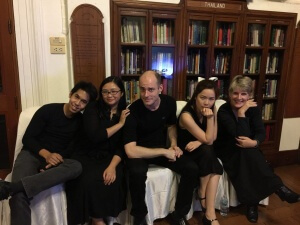 On Friday 4th December, 2015 five members of BCT helped bring Shakespeare to life by performing some short scenes and monologues at an event at the Neilson Hays Library.
Jason Jellison, a student at Thongsook College, gave a fascinating and evocative presentation of Shakespeare's life and times. He even went so far as to include the kind of snacks that would have been on offer at The Globe four hundred years ago during the interval!
Peevara (PV) Kitchumnongpan,  Roselle Chatsuthipan, James Laver,  Thanyathorn (Sea) Thaicharoen, and Bonnie Zellerbach (from left to right in the photo) provided scenes from The Comedy of Errors, Romeo & Juliet and The Tempest during the presentation. Even they admitted to learning a lot of new things about Shakespeare on the night!
There are talks of a similar event based on another playwright in the middle of 2016, and Jason is likely to ask for volunteers from BCT again. It's a fun way to do a bit of acting without too much rehearsal. So, we'll keep you posted.
You can see more pictures of the event here.