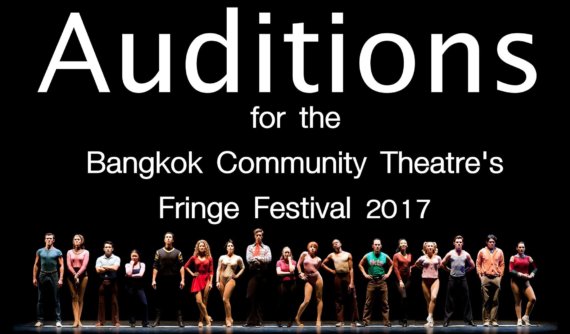 Men and women of all nationalities are invited to attend auditions for Bangkok Community Theatre's Fringe Festival: an evening of short plays and scenes, to be performed in English at Creative Industries at M Theatre in May. The festival consists of 6/7 one-act plays/scenes and musical/dance numbers, staged by talented directors and ranging from 10 to 20 minutes long, each with large and small roles.
With an abbreviated rehearsal period and rehearsal schedules limited to once or twice a week, this is the perfect opportunity for every would-be actor. If you are usually too busy, the one-rehearsal-per-week schedule of some of the productions is right for you. If you've never acted before, the very supportive audience of BCT members and friends will reduce the butterflies and stress. If you just want to get back on stage, there are some great plays going into production, and one is surely perfect for you!
As always, enthusiasm is much more important than experience, and auditions will be relaxed and informal. Plus, we have been fortunate enough to cast everyone who auditioned for the last Fringe Festivals and will try to do so again this year.
Please come by to learn more and join in the fun. We need you to make it happen! We are also looking for backstage cast and crew, so if you'd like to help out behind the scenes please contact us.
If you're interested call 084 388 5650, or email elisemel@gmail.com to register.
When: Monday, April 3, 2017, at
7:00 PM
Where: Bistro 33 Sukhumvit Soi 33
Who: Anyone and everyone!
We hope to see you there!