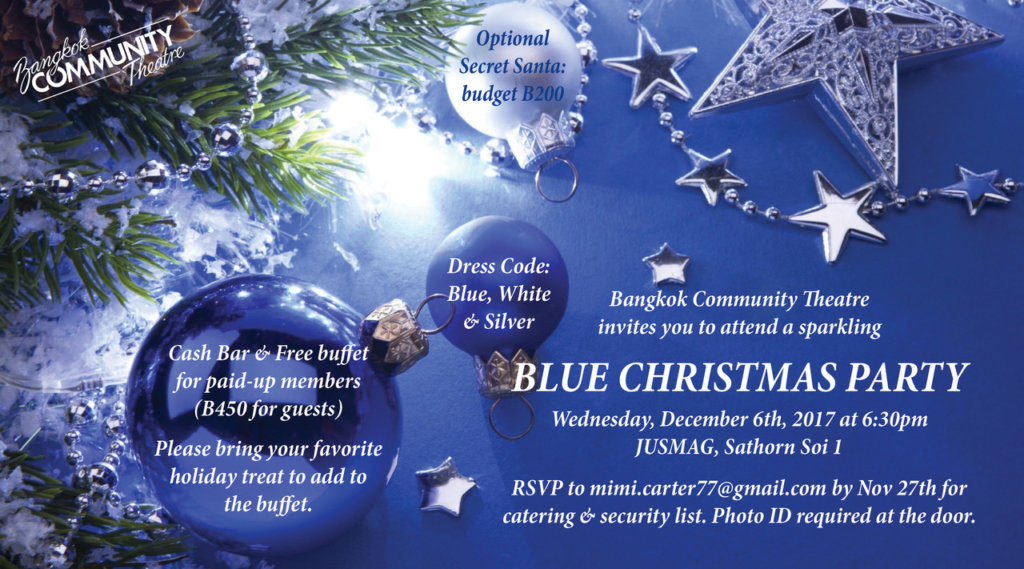 Have you RSVP'd to BCT's Blue Christmas Party on December 6th? Hurry up 'cause we'll be blue without you!
That's right, Wednesday, December 6th, 2017 at 6:30pm is BCT's Blue Christmas Party at JUSMAG on the corner of Sathorn Soi 1.  With the help of many BCT volunteers (you know who you are and thank you so very, very much!) we have transformed the space into a Blue Winter Wonderland complete with a Christmas buffet, cash bar, snowflakes, caroling, prizes, Secret Santa and so much more.  However, we need your presence (dressed thematically in Blue, White and/or Silver, of course) to make the evening complete.
BCT will supply the turkey and the main eats, but as Christmas is all about sharing, we hope you will bring a dish to add to the Christmas buffet. Your favorite holiday vegetables, a salad, pumpkin pie, Christmas cookies? Whatever you'd like to bring in the way of food would be a wonderful addition. We'll also hold an optional Secret Santa exchange during the evening so if you'd like to participate, please bring a wrapped gift with a value of approximately B200 to put under the tree.
We must confirm numbers for catering purposes (and supply a guest list to security) by November 27th so please scour your closet for your best blue finery and RSVP today to Mimi.carter77@gmail.com.
Some special notes about the event:
When: Wednesday, December 6th at 6:30pm
Where: JUSMAG, Sathorn Soi 1
Who: Free for BCT Members; B450 for guests
Dress Code: Blue, White and/or Silver (costume prizes!!)
Optional Secret Santa: Bring a wrapped gift value B200 or less to participate
Bring a plate of something to add to the buffet! Note: no outside beverages allowed.
RSVP by Nov 27: Mimi.carter77@gmail.com. (Photo ID required on the night)
We can't wait to see you all there!