Club Nights
Each month, BCT hosts a Club Night activity that is related to theatre in some way. We provide a variety of activities including workshops, game nights, play-readings and previews of BCT shows. Every month it's something different, and we try to choose topics that will appeal as broadly as possible. Club Night is also a great way to meet some new friends, and to find out more if you're thinking of joining BCT.
Club Night usually falls on the first Thursday of the month at Bistro 33. The restaurant is just off Sukhumvit Soi 33, about a 10-minute walk from Phrom Phong BTS, with its own off-street parking.
Club Night activities are free for members of BCT. Non-members are also welcome to come along for an entry fee of just 100 Baht.
See below for information about recent and upcoming Club Night activities. The information is also posted on the Home page of the website, and on our Facebook page.
You can see pictures of some past Club Night events at the bottom of this page.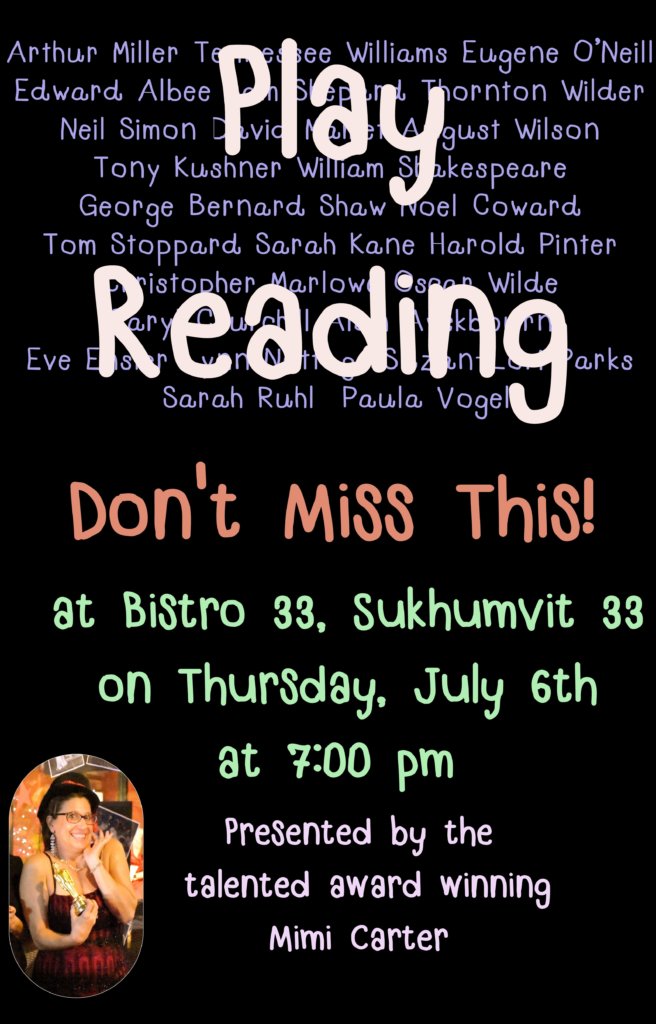 A play reading evening is a form of theatre without sets or full costumes where participating "actors" read from interesting scripts with minimal stage movement. Our multi Bobs award-winning narrator and host Mimi Carter has chosen some interesting short pieces and this is guaranteed to be a laid back, fun social evening for all thespians!
So come along and bring your friends and join us at Bistro 33 at 7:00PM on Thursday, July 6th, to have some good food and drinks, meet some pretty cool people. And it's free for BCT members and a mere THB100 for non-members… you can't beat that for an entertaining evening out.
See you there!