Club Nights
Each month, BCT hosts a Club Night activity that is related to theatre in some way. We provide a variety of activities including workshops, game nights, play-readings and previews of BCT shows. Every month it's something different, and we try to choose topics that will appeal as broadly as possible. Club Night is also a great way to meet some new friends, and to find out more if you're thinking of joining BCT.
Club Night usually falls on the first Thursday of the month at Bistro 33. The restaurant is just off Sukhumvit Soi 33, about a 10-minute walk from Phrom Phong BTS, with its own off-street parking.
Club Night activities are free for members of BCT. Non-members are also welcome to come along for an entry fee of just 100 Baht.
See below for information about recent and upcoming Club Night activities. The information is also posted on the Home page of the website, and on our Facebook page.
You can see pictures of some past Club Night events at the bottom of this page.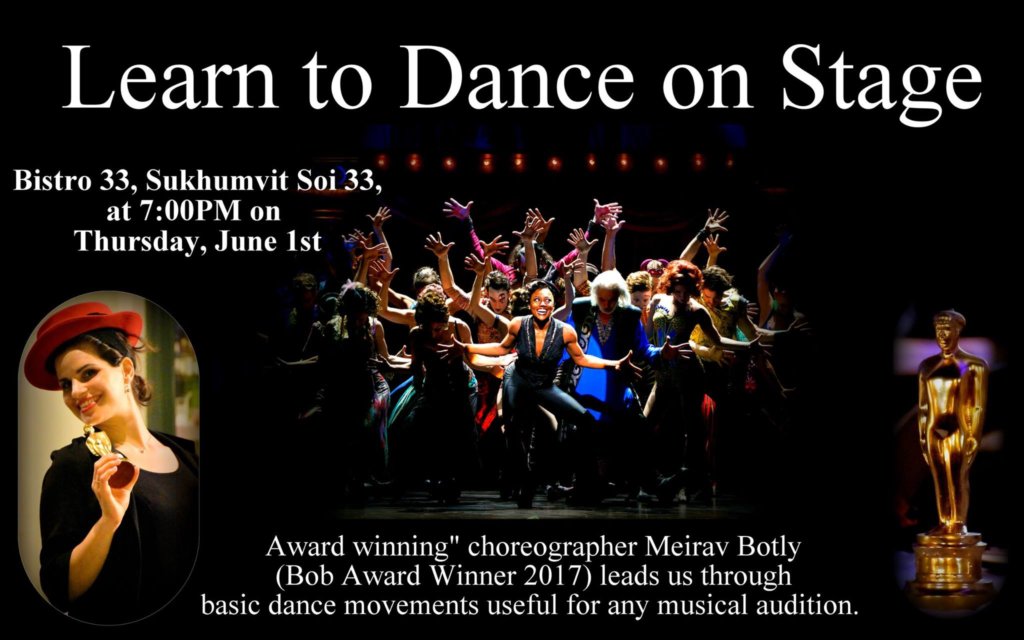 Next up for BCT's monthly Club Night: yes, it is a dance night with award winning choreographer Meirav Botly (Bob Award Winner 2017–and we say that with love). Meirav Botly recently choreographed our very entertaining Aladdin (2016) and she will teach us basic dance steps that might come in handy for any musical auditions. She will choreograph a Broadway song and by the end of the evening we will be ready to perform that musical number.
This may also come in useful for our upcoming auditions of BCT's next Broadway musical project. So grab some comfortable shoes and wear something comfortable to move in, tell your friends and join us at Bistro 33 at 7:00PM on Thursday, June 1, have some good food and drinks, meet some pretty cool people.. and it's free for BCT members and a mere THB100 for non-members. You can't beat that for an entertaining evening out.