Club Nights
Each month, BCT hosts a Club Night activity that is related to theatre in some way. We provide a variety of activities including workshops, game nights, play-readings and previews of BCT shows. Every month it's something different, and we try to choose topics that will appeal as broadly as possible. Club Night is also a great way to meet some new friends, and to find out more if you're thinking of joining BCT.
Club Night usually falls on the first Thursday of the month at Bistro 33. The restaurant is just off Sukhumvit Soi 33, about a 10-minute walk from Phrom Phong BTS, with its own off-street parking.
Club Night activities are free for members of BCT. Non-members are also welcome to come along for an entry fee of just 100 Baht.
See below for information about recent and upcoming Club Night activities. The information is also posted on the Home page of the website, and on our Facebook page.
You can see pictures of some past Club Night events at the bottom of this page.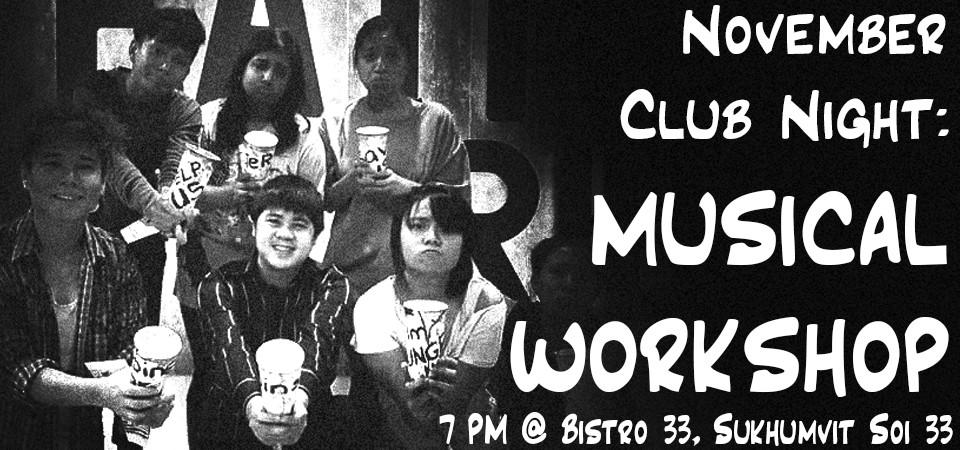 Join Preeyakit 'Fox' Buranasin, musical director for our recent production of The 25th Annual Putnam County Spelling Bee, on Thursday, November 2nd at Bistro 33 for an open workshop of his very own musical! Be a part of the creative process in developing an original work from the ground up. Participants will get to perform the first public reading of the book of the musical, and their reading will be punctuated by live, rehearsed performances of the songs by other BCT members, followed by a Q&A and feedback session to help guide this groundbreaking work to the next level.
So what are you waiting for? Please sign-up and let us know that you're coming so we can prepare enough materials. RSVP to: fox2529 [at] hotmail.com If you are a fan of musicals, or a supporter of new, original works, you can't miss this out on this opportunity!
Please note: Club Nights are free for members and B100 for guests.