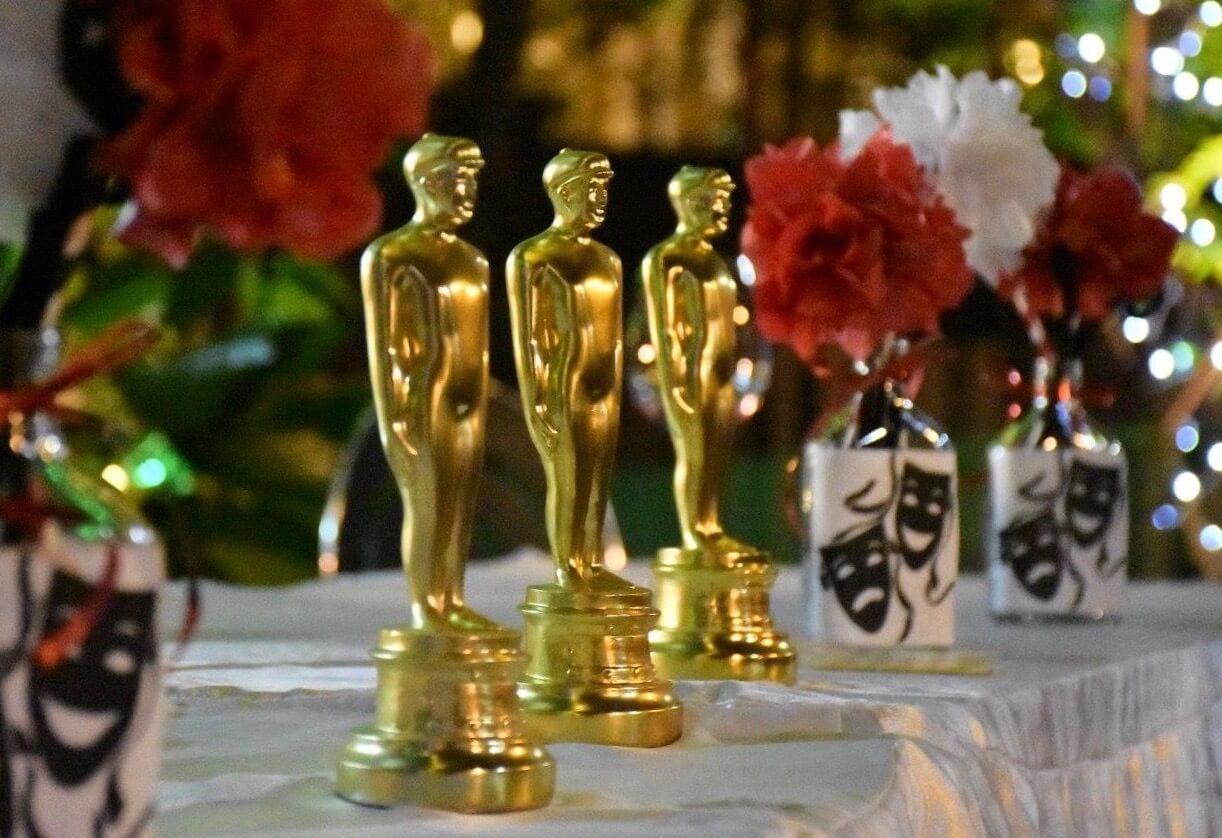 The Bobs Awards
The Bobs is an annual awards ceremony that takes place every February as part of our AGM. They started in 1999 as a way to celebrate some of the lighter moments of BCT's previous production year. The awards are named after the much loved and respected Bob Radford, who had been a dedicated BCT member for 15 years. He appeared in countless productions, and was best known for his great sense of humour and comic-timing. Sadly, in 1998, just a week after appearing onstage in a BCT show, we lost one of our stars.
Bob was sorely missed by all who knew him and the Bobs Awards were created as a way for his memory to live on. One of his best-loved characters was a rather bluff Yorkshireman, and this provided the inspiration for the statuette, complete with signature flat cap, that winners of a Bob receive today. The statues were beautifully designed and created by BCT members Julie L'Argent and the late Patrick L'Argent.
Rather than giving awards for Best Actor, Best Director, and so on, over the years we've come up with more tongue-in-cheek categories, as you will see from the Winners Role of Honour below.
We think Bob would have approved!
Previous Winners of the Bobs
19th (2016) – awarded in 2017
Missing in Action – Alf Collett
Beyond the Call of Duty – Meirav Botly
Technical Traumas – Cian Green
Precarious Props – Hayley Hilne & Mimi Carter
Whose Line is it Anyway –  Kellie Abley
Offstage Antics – Jude Aspa
Most Abused Actor – Suman Tharan
18th (2015) – awarded in 2016
Stunt of the Year – Peevara Kitchumnongpan & Peter Assimakopoulos
BCT's got the X Rated Factor – Pear Kulthanan
For the Love of Theatre – Don Harrelson
A Merry Song and Dance – Anna Rhea Manuel
Never Work with Children or Alcohol – Celia Barthman
Just Call Me an ImPRO – Vineet Kumar
17th (2014) – awarded in 2015
Ooh, What a Lovely Pair – Neil Rusia and Karen Dodgson
Fall From Grace – Ian Robinson
Carry on Regardless – Tom Poldre
A Merry Song and Dance – Alex Long
You Did What!? – Fox Burannasin
Oh No I'm Not, Oh Yes You Are – Poi Kittipoomvong
Hidden Talents – FC Nieuwoudt
16th (2013)
Political Mover & Shaker – Nic Frances
Beyond the Call of Duty – Chris Bane
Amazing Transformation – Sea Thaicharoen
Putting it Out There – Didey Wanitchakarnchai
Hidden Helpers – Michele Wells
Making it Work – Paul Robere
15th (2012)
You Wear it Well – James Laver
Exhibitionist – Nimit Narula
Top Prop – Noni Upanisakorn
Finger in Every Pie – Elise Meleisea
Whose Wine is it Anyway/Improv – Sev Herbert
Bend and Snap – Steven Fry
The Smut Award – Michael Allman
Patience of a Saint – Larry Ryan
14th (2011)
Beyond the Call of Duty – Helen Bowen
Dressed to Kill – Tim Johnson & James Dyke
Scene but Not Heard – Deborah Shucart
What I did For Love – Kristen Rossi
For the Love of Directing – Mark Sobels
Missing in Action – Roderick Turner
Master of Disguise – Vanessa Armstrong
13th (2010)
Say it Again Sam – Ray Possick
Seeing Red – Dariya Suebkraisorn
Things That Go Up – Brian Phillips
Public Enemy #1 – Tasneem Poonevala
It Didn't Happen One Night – Lotti Agerlid
You Did What? – Belinda Skinner
12th (2009)
So You Think You Can Dance – Boom Boom Suthibutr
James Bond – Marion McDonald
The Biggest Slapper – Camilla McDonald
Karma Chameleon – John Wright
Always Alert – Gary Norman
The Odd Couple – Stephanie Wallis & Anna Khendry
Above and Beyond – Tori Truslow
Can You Hear Me Now? – Anna Henretty
Super Trouper – Libby Daniel
11th (2008)
The Alzheimer's Award or Lest We Forget – Ray Stafford
Being Up Front and Strutting Their Stuff – Kathy Clegg
Most Used and Abused Committee Member – Kittima Sethi
Fights On Stage and Off or Blood and Gore – Matthew L'argent
Daring Director or Directors Who Dare – Kevin Jesuino
Line Dancing – Jenny Raine
Technical Traumatics – Justin Brooks
They Wore It Well – Nichola Frances
A Picture is Worth a thousand Words – Jonathan Truslow
10th (2007)
Beyond the call of Duty – Stephanie Wallis
Hands off my Property – Isabell Poppelbaum
Exhibitionist of the Year – Rex Burlington
Control Freak – Kelly McDonald
She's the Man/Cross Dressing – Omar Tiozon
Stage Mother of the Year – Ismael Mercado
Putting it Across (or not) – Ro Verdeja
I'm Desperate for a Bob – The Zellerbach Family (B, J, K & A)
Special Achievement with a Sewing Machine – Khun Moo (Binphet Libnukul)
9th (2006)
Best Kept Secret – Jack Ruenprapan
Beyond the call of Duty – Cathrine Harsono
Best Butt of a Joke – Audwin Thomas Yap
Mum's The Word – Michelle Shepherd
Bob the Builder Award – Monika Holman
Missing In Action Award – Joanne Ryan
Best Swinger in Town – Belinda Skinner
8th (2005)
Quick Change Champion – Nico Torio
Bed Push Award – Monika Holman
ADHD Award – Don Harrelson
Best Standby – Severin Herbert
Best Actress in a 'tight' Situation – Danielle Tyke
Best Actor in a 'manly' Role – Larry Ryan
7th (2004)
Survival of the Fittest – Jack Dunford
Missing in Action – Hersh Gupta
The Show Must Go On – Debbie Smith
Beyond the Call of Duty – Ted De Atley
Baring it All (Boobs & Bums) – Rachel Stead
Words Fail Me – Jonathan Truslow
6th (2003)
Thanks for the Mammaries – Anna Khendry
Missing in Action – Aaron Frankel
Speaking in Tongues – Ismael Mercado
Playing it Cool – Margaret Miller
Caught in the Act – Gustavo Benitez
Beyond the Call of Duty – Mimi Carter
Gender Benders – Trini Faulkner
5th (2002)
Ernest Question – Lynsey Collis
Old Codgers/BCT Veteran – Paul Robere
Beyond the call of duty – Roger Welty
Directors/creative Clod – Sarah Barnfield
Saving the Day – Peter Meyers
Rookie of the year – Kathy Clegg
Grand (surprise) Entrance – Elise Meliesea
4th (2001)
Beyond the Call of Duty – Heather Tennison
The E.R. Award – Angela Mitchell
Over the Top – Alison Mouton
It'll Be Alright on the Night – Roderick Turner
Put Your Best Foot Forward – Barry Daniel
Exhibitionist of the Year – Bonnie Zellerbach
Actor of the Year – Cooper Resabal
3rd (2000)
Hats off to You – Louise Truslow & Wah Whisenand
Missing in Action – Patrick L'Argent
Over Exposure – Jane Prichard
Saving the Day – Michelle Prose
In the Line of Duty – Nico Torio
Technical Traumas – Michael Dale & Sara Fielding
Stealing the Scene – Alan Fieldus
Beyond the Call of Duty – Surin Narula
2nd (1999)
Best Line of the Year – Lisa Cockette
Best Save of the Year – Vicky Stevens
In the Line of Duty – Audrey Vallance
Close but no Cigar – Rhona Welch
Coping with Disaster – Colin Furst
Club Night Scene Stealers – Jonathan & Sarah Hughes
Biggest Tart of the Year – Michael Popkin

1st (1998)
Most Abused Actor – Stephanie Lott
Best Sport of the Year – Cathy Kell
Saving the Day – Michael Popkin & Larry Ryan
Best Accident – Roderick Turner
Best Costume – Niki Thongborisute
Best Line of the Year – Dan Knight