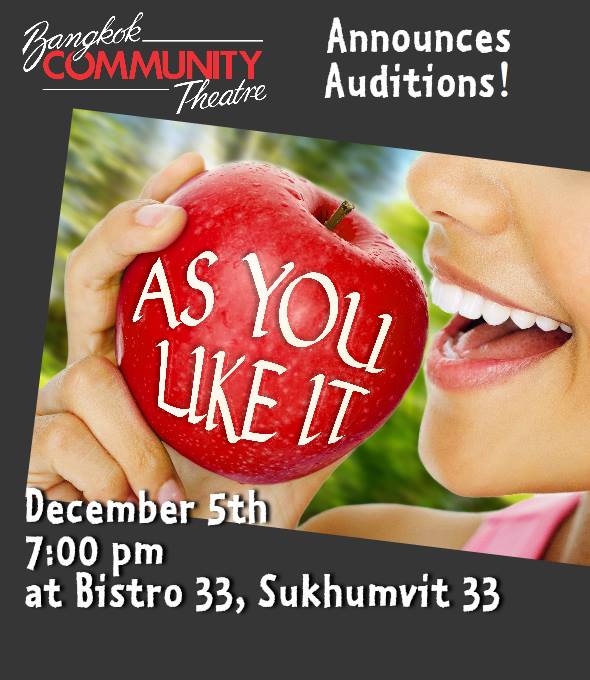 All the world's a stage!
Next up with BCT: Shakespeare's classic comedy, As You Like It, a play about finding safety and love. For complete list of characters and an audition application, please email us! The synopsis of the play can be found here.
Auditions will take place at Bistro 33, Sukhumvit Soi 33 at 19:00 (7:00pm). The play will be performed March 22, 23, 24, 29, 30 and 31, 2018 at BNH Hospital, in the stately Conference Room.
Questions? Want an audition form? Email info@bangkokcommunitytheatre.com, and check out our Facebook page.
Anyone can audition to take part in a BCT show. Even though our productions are in the English language, some of our most active members are non-native speaker. For insurance reasons, the only requirement is that you must be at least 16 years of age before you step on stage with us.
We hope to see you there!
Apply to Audition
If you'd like to audition, simply:
Download our audition form as a Word document, or open it in pdf version in a new tab.
Fill out the form.
Submit it as an attachment below.
If you choose to attach a scan of a handwritten form, please note that the file needs to be less than 1MB in size (and please make sure your handwriting is legible!)
[contact-form-7 id="3705″ title="Audition Submission"]
Where are the auditions?
Bistro 33: