Bangkok Community Theatre
BCT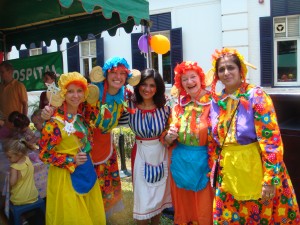 is the largest and longest running English-language community theatre group in Thailand. We are a voluntary, non-profit organisation, and with the help of our members we stage 3 to 4 productions each year for the local community. All BCT shows depend on volunteers from the community to perform on-stage and to help behind the scenes. As well as actors, every show needs a production team, props, set design, costumes, light and sound, front of house and backstage crews, publicity and fundraising (we're always on the lookout for potential sponsors), so there are plenty of ways to get involved.
BCT Members
BCT welcomes all types of people with all types of skills from all types of backgrounds. Although BCT shows are in English, being a non-native speaker doesn't seem to hold back many of our active members! As a member, you are encouraged to take part however you would like, and each year we try to provide a range of shows and activities that allow everyone the opportunity to perform, even those that are new to the stage.
Joining BCT 
Apply now through the website. Alternatively you can contact us or drop by any BCT event if you'd like to discuss membership with a member of the committee.
It's easy to join. There's a one-off annual membership fee for which you'll receive:
The opportunity to take part in BCT shows, whether on stage or behind the scenes (including insurance)
Regular news and updates about own productions and auditions, as well as those elsewhere in Bangkok
Monthly Club Night activities
A great social community
Club Nights
Joining BCT is a great way to meet new friends. There is a huge amount of team spirit within the cast and crew of a BCT show. We also hold monthly Club Night events ranging from acting workshops to game nights and movie screenings that give all members the opportunity to get together, mingle and have fun.
You can find out more about our Club Night activities here.
Committee Members
BCT is run by a committee of 10 members who are voted in at our AGM every February. The current committee members for 2017 are:
Chairman: Paul Robere
Treasurer: Don Harrelson
Secretary: Celia Barthman
Archives: Samantha Foster
Club Nights: Mimi Carter
Costumes: Bonnie Zellerbach
Membership Relations: Ricardo Hizon
Public Relations: Melissa Rayworth
Social Media: Suman Tharan
Webmaster: Sam Strozzo
The Bobs Awards
Another feature of the AGM is our annual Bobs awards, named in in honour of long-time BCT member Bob Radford who passed away in 1998. The Bobs are BCT's tongue-in-cheek equivalent of the Oscars.
You can see a list of the past winners of the Bobs here.
BCT History
BCT was founded when the two existing drama groups decided to pool their resources and form one organisation. The Amateur Community Theatre, a mainly American group, was founded in 1959 and was the first English-speaking dramatic society in Bangkok. It was followed in 1963 by the mainly British Bangkok Dramatic Society. In 1972 the two organisations decided to join forces and Bangkok Community Theatre (BCT) was born – the name chosen by a ballot of the combined membership.
Through the years and the generous contributions of our members, BCT has put together a substantial theatrical archive. We have photo albums chronicling past productions including programs, posters and ticket layouts, in addition to the usual score of memorable photographs. We also have a significant number of scripts for plays, musicals, murder mysteries, monologues and audition pieces.
Members who would like to access the BCT archives are welcome to contact us to arrange a time.